Track Real-time Location with FamiSafe
FamiSafe lets parents control screen time, track real-time location and detect inappropriate content on kids' devices.
Android phones use the same GPS hardware as iPhones. However, it is impossible to launch and use unsupervised apps on iPhones due to iOS restrictions. Is there a method to fool your iPhone into thinking you're somewhere else? Changing the location or region of your Apple ID isn't always sufficient.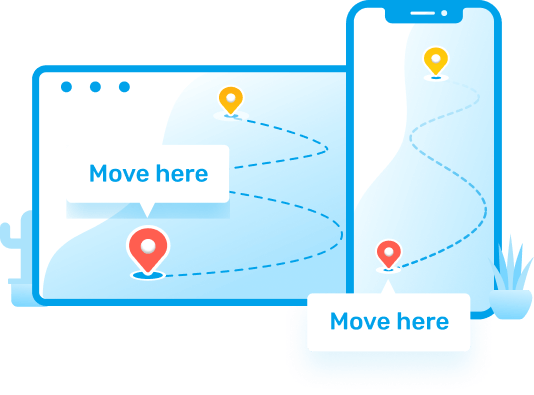 There are techniques to spoof GPS location of iOS devices regardless of why you wish to hide your whereabouts. Many people still believe it is a very technical process, although this is far from the case. In this article, we will tell you how you can easily change the GPS location of your IOS device. Let's take a deeper look at how to spoof your iPhone's GPS location:
Method 1: Use Dr.Fone to Set Virtual Location to Any Place
Dr. Fone- Virtual Location is the best app to use if you want to fake your location on your iPhone and even show out the route between the two locations (iOS). You can use this to create not just a false location on iOS, but also to mimic motion between two or more locations. You can use this tool without jailbreak to change your location as many times as you want. With a single click, you can move the GPS location automatically. This tool will help you to manage your GPS location management on five different iOS devices and you can use the faked GPS positions on the map in the future.
If you want to spoof GPS location on your iPhone device, follow these steps:
Step 1: Download and install Dr.Fone - Virtual Location (iOS) on your PC. This app is compatible with both Windows and Mac devices. Open the app and when you enter the main interface click on the "Virtual Location" tab.
Step 2: After connecting your iPhone to your PC with a USB cable, select the "Get Started" option. You will be able to see the actual location in the following window. Click on the "Center On" icon if you are unable to find the location and you will see your accurate location
Step 3: Click the corresponding icon in the upper right to activate the "teleport mode". Enter the name of the location you want to teleport to and click "Go".
Step 4: A small pop-up box will appear on the screen when the system will get the location correctly. You can see the distance of the entered place here. Now, click on the "Move Here" icon.
After following these steps, you will be able to successfully change GPS location on an iOS device. Even in the location-based apps, your iPhone will show the fake location.
If Dr. Fone fails to change your location, you can try to use a VPN tool to fake your location.
Method 2: Use use iMyFone Anyto to Change Your GPS location
Because of the great security and complexity of Apple's system, it's tough to spoof a GPS position on an iPhone. Using third-party software such as iMyFone AnyTo, however, is the simplest and most basic way to shift location without having to jailbreak your phone.
iMyFone AnyTo allows you to simultaneously change the GPS location of up to five iOS devices. You can quickly adjust your moving speed with iMyFone AnyTo by creating a route on the map to follow. When your AR game demands you to go outside but you'd rather stay at home, this is a great option. You can observe that you're moving in the game in sync with iMyFone AnyTo with this wonderful Location switcher! You can also share virtual locations on social media networks, fake your location on dating apps, disguise your iPhone location, and access geo-restricted material with iMyFone AnyTo Location Changer.
AnyTo will support your iPhone/iPad no matter what iOS version you have, including the latest iOS 15 or iOS 14. Furthermore, AnyTo has been upgraded to support Android operating systems! Without any complications, everyone may enjoy faking location on their phone!
Follow these easy steps if you want to change spoof GPS location with this app:
Step 1: Download and install iMyFone Anyto on your computer. When the installation is complete, a notification will appear on your screen instructing you to connect your device. Use a USB cable to connect your iOS device to your computer. After that, you must unlock the smartphone. When your iPhone prompts you to Trust This Computer, tap Trust. To finish the operation, enter the screen passcode once again.
Step 2: The map will begin to load. You can locate your position on the map when the map has been properly loaded.
In the top right corner, select Teleport Mode (the 4th one). By sliding the mouse, you can now zoom in and out of the map and choose a location. You can also search for your location by entering the address/GPS coordinates in the upper left corner, such as Vancouver.
Step 3: A sidebar will appear as you pick a location. It will display information about the destination, such as the coordinates, name, and distance.
Step 4: Click the Move button. Your location will be updated instantly to Vancouver. All of your iPhone's location-based apps will be updated to Vancouver as well.
Method 3: Use use 3U Tools to Fake GPS Location on IOS Devices
Setting up a spoof GPS location on an iOS device can be useful and fun at times. It allows you to have a better idea of a location without actually visiting it. Apart from that, it has a benefit that you can access more software features if you have the chance to fake your location, but this is a tricky business. With 3uTools' Virtuallocation, you can set a virtual location on your iDevice and share the virtual location on social media. With this feature, you can also bypass the geographical limitation of particular games.
If you want to change GPS location of your iPhone, follow these steps:
With 3uTools' Virtuallocation, you can set a virtual location on your iDevice and share the virtual location on social media. With this feature, you can also bypass the geographical limitation of particular games.
Step 1: Connect your iDevice to a computer/laptop and install the newest 3uTools. Go to "Toolbox VirtualLocation" once the iDevice is linked.
Step 2: Type in the latitude and longitude of the address you want to save. After everything has been set up, click the "Modify virtual location" option.
Step 3: A popup that appears shortly after clicking will tell you whether it was successful. Otherwise, the procedure can fail if the screen was locked during the process. You will now notice that the location displayed on your social media has changed to a virtual place.
Step 4: To restore the original location, just click the "Restore true location" button and reboot your iDevice; you can also reboot the device directly to restore the original GPS position.
Part4. Why do Kids want to Fake GPS Location?
Most teens fake GPS location to play location-based games like Pokémon GO and Ingress and to hang out with their friends without worry. Without a GPS visualizer, it would be difficult, or impossible for kids to play those games. However, children have a number of reasons for wanting to conceal their whereabouts. As a parent, you want your children to be secure, and you don't want to be duped. It's conceivable that if you use a GPS monitoring app on your child's phone, they're lying about their whereabouts. There are solutions for both detecting and preventing this deceit. 
Because of technological advancements, numerous applications are available that allow you to keep in touch with your loved one at all times. Famisafe is one of the apps that can assist you with this. While staying connected is important, it may feel like an invasion of privacy, particularly for teens. Today's children seek out various methods to circumvent such programs and remain offline. Such approaches are extremely hazardous and may be dangerous.
• FamiSafe allows you to detect unsuitable material, limit screen time, and track the location of your kids' gadgets in real-time. FamiSafe is a wonderful option for parents seeking a full solution to care for their children.
• Parents can create geofences and locations for their children, which will alert them when they enter or leave that region.
• When a smartphone enters or quits a virtual geographical place, FamiSafe employs GPS, RFID, Wi-Fi, or cellular data to detect a pre-programmed action.
• FamiSafe can also gather and record the most recent active locations, creating a location history that parents can use to follow their children's activities.
You can monitor the spoof GPS location of your kids by following these steps:
Step 1: Create a FamiSafe account on the website or using the FamiSafe app available on App Store and Google Play.
Step 2: Install the FamiSafe app on your and your kid's smartphone.
Step 3: From the FamiSafe dashboard app or web interface, connect and control all of your devices.
Wondershare Famisafe
FamiSafe lets parents control screen time, track real-time location and detect inappropriate content on kids' devices.